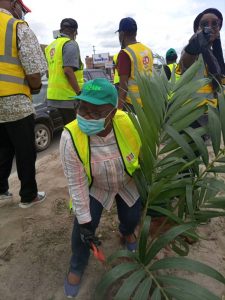 As part of efforts to reduce the effect of climate change and also contribute to the restoration of the ecosystem, the Lagos State Parks and Gardens Agency (LASPARK) and Rotary Club of Lagos have collaborated to plant 60 trees to commemorate the 60th anniversary of the humanitarian club.
Speaking during the tree planting exercise at the median of Abraham Adesanya off Lekki Epe Expressway, Ajah, the General Manager of LASPARK, Mrs. Adetoun Popoola, said the collaboration is a move by the Rotary Club to continue contributing its quota towards environmental restoration, urging individuals and other private entities to emulate the ideal.
"Everyone has a role to play in protecting and saving the earth and one of the ways to perform such role is to cultivate the habit of planting trees to celebrate memorable events", she added.
The General Manager, who was represented by the Head of Tree Planting Unit, Mrs. Funto Aina, stressed the importance of trees to the environment, saying trees are vital for the sustainability of the ecosystem.
She noted that LASPARK will continue to undertake advocacy programmes to enlighten and educate Lagosians about the importance of tree planting, stressing that every tenement in Lagos State should endeavour to beautify their environs with flowers and trees for healthier living.
Popoola reiterated that the achievement of a greener and healthier Lagos remains the focus of the Governor Babajide Sanwo-Olu-led administration in the State.
Also speaking on the significance of trees to the environment, the President Rotary Club of Lagos, Mr. Dare Adeyeri, said tree planting is one of the ways to nurture nature, adding that planting trees helps maintain healthy soils and humidity levels in the air.
Adeyeri noted that trees provide natural climate solutions by helping reduce the effects of global warming and air pollution as well as boost rainfall, saying that planting trees vastly improves the quality of our natural surroundings.
While admonishing Lagosians to imbibe the tree planting culture, he also urged them to contribute to the survival of the planet by planting trees towards its restoration.