LASPARK LAUDS UBA's SUPPORT FOR 'LET'S GREEN OUR CITY' INITIATIVE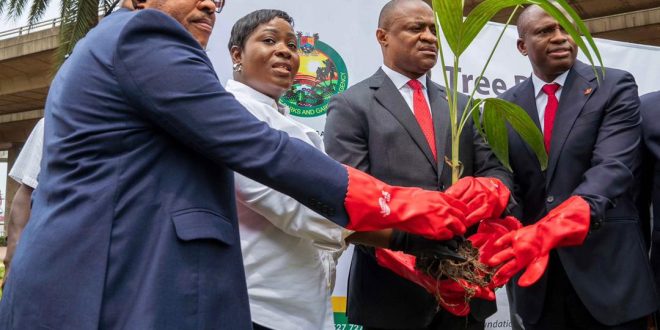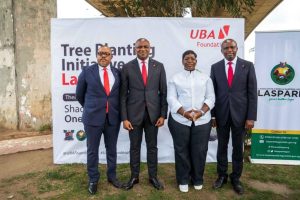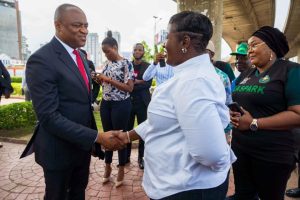 Lagos State Parks and Gardens Agency, (LASPARK) has commended United Bank for Africa (UBA) for complementing its ongoing "Let's Green Our City" campaign with the planting of some trees as part of its Corporate Social Responsibility (CSR).
The General Manager of the Agency, Mrs. Adetoun Popoola gave the commendation on Thursday 20th July 2023 at the launch of "The UBA Foundation Tree Planting Initiative" held at UBA Foundation Gardens in Marina , Lagos.
Popoola said that she was particularly pleased that UBA embraced the consistent call by LASPARK on the need for individuals and organizations to complement government efforts in caring for the environment either by the way of planting trees or by adopting spaces to establish gardens.
She said: "I am particularly pleased that United Bank for Africa (UBA) through the UBA Foundation aims to build a safer and sustainable environment for Lagosians with the tree planting initiative themed "Shades of Hope: One Tree at a Time".
She recalled that this year's Annual Tree Planting Day of the state government which held on the 14th of July harped on the need for collaboration between the government and other environmental friendly organizations, saying that the call from LASPARK remains that individuals and organizations should make tree planting a regular activity as part of our lifestyle to mark milestone celebrations or to commemorate other significant events.
According to her, LASPARK led the charge to commemorate the annual Lagos State Tree Planting Day last week, 14th of July, by planting 60 trees and coordinating the distribution and planting of 1,540 seedlings by Local Government Authorities and interested individuals and organizations. "This is a continuous exercise which we hope to culminate in at least over 3,000 trees by the end of this planting season," the General Manager added.
While appreciating UBA Foundation on this laudable initiative of voluntary tree planting exercise, the General Manager used the occasion of the tree planting exercise to call on other corporate organizations to emulate UBA by investing in their host communities through other environmentally conscious projects.
On his part, the Managing Director of UBA, Oliver Alawuba said that the launch of the Tree Planting Initiative was commemorated with a total number of 13 trees planted at the UBA Foundation Garden in Marina and International Airport set back Ikeja simultaneously.
He revealed that the Tree Planting Initiative was replicated in all 20 countries where UBA has presence across Africa, maintaining that the management of the bank realizes the importance of tree planting and giving back to its host communities.
Speaking on the importance of tree planting, Alawuba stated that "every tree we plant symbolizes hope for our planet, providing cleaner air, restoring natural habitats, and combating climate change. By planting one tree at a time, we're weaving a tapestry of a healthier, greener city for generations to come"
LASPARK reiterates the call for everyone to join us in this revolution to green our city. Let's leave a legacy of sustainability and a thriving environment. Together, we can make a difference, "one tree at a time".
Adekunbi Bakare
Head, Public Affairs
LASPARK
21/07/2023