IKORODU PARK BASKETBALL COURT GETS FACELIFT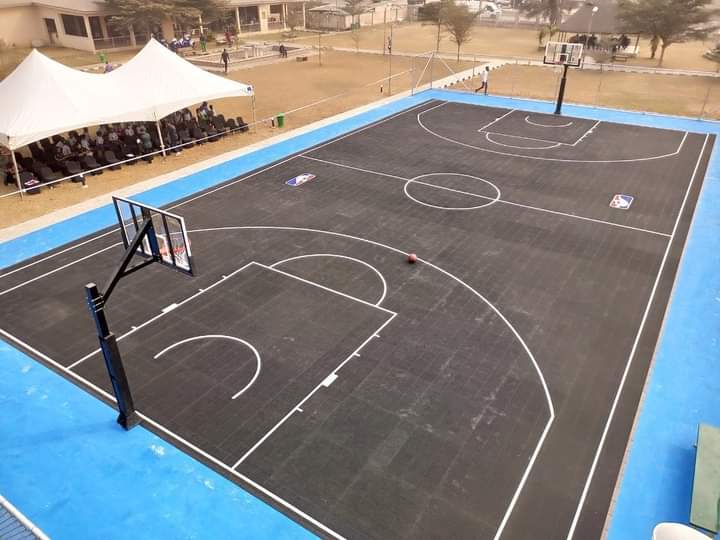 he Lagos State Parks and Gardens Agency (LASPARK) has collaborated with the National Basketball Association (NBA Africa) and Hennessy to remodel the Basketball Court within Ikorodu Recreational Park.
Speaking at the commissioning and handover ceremony of the NBA Legacy Basketball Court in Ikorodu, the General Manager of LASPARK, Mrs. Adetoun Popoola, said the rehabilitation of the sports facility is part of the Agency's efforts to contribute to the growth and development of youths in the State.
She expressed the determination of LASPARK to continue collaborating with the private sector on projects that will foster unity amongst residents, noting that NBA Africa is a global sports and media business committed to increasing access to the game of basketball across Africa through infrastructure development of courts.
Popoola acknowledged that the refurbished playing ground will boost sporting activities in the neighbourhood and also complement the State government's drive towards engaging the youths positively.
Also speaking, the Vice President of NBA Africa, Gbemisola Abudu, appreciated the Lagos State Government for creating an enabling environment that facilitated quick delivery of the Court.
She mentioned that the commissioning is a significant one as it coincides with the celebration of the 75th year anniversary of the NBA league and the launching of the NBA office in Nigeria.
Abudu recognised the tremendous impact Nigeria has had in the game, adding that NBA will continue to play its part in the growing basketball ecosystem in the country. She also disclosed that one of the many Courts planned by the NBA for Africa will be built in Nigeria.
The Vice President of NBA Africa averred that the youths have a lot to benefit from the game, stating that the NBA believes in the transformative power of basketball for social good and that the court will be a place of memory for many children.
The newly renovated Court is a standard regulation basketball field that meets international standards. The original court surface area was less than the standard required, hence its perimeter was expanded. Its railings were fabricated locally as part of the local content NBA Africa promotes.
The playing floor is overlayed with a layer of modular synthetic weather resistant material. The sport court layer is specially engineered to optimise shock absorption, reduce the risk of impact injury and provide the best combination of abrasion protection and dry traction.