LASPARK JOINS OTHERS TO CELEBRATE INTERNATIONAL WOMEN'S DAY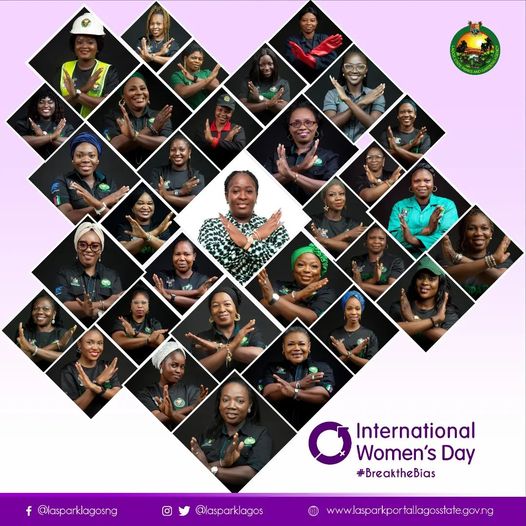 In commemoration of year 2022 International Women's Day (IWD), the  Lagos State Parks and Gardens Agency (LASPARK) has joined the rest of the world to observe the global day, set aside to celebrate women's achievements, raise awareness against gender bias and take action for equality.
The General Manager of LASPARK Mrs Adetoun Popoola while having a chat with  female employees at the Agency's conference room said the domination of key positions in the organization by the feminine gender is an indication that women can break any form of bias and elevate their voices in the workplace or anywhere else they find themselves.
She noted  that IWD creates a beautiful moment for all women to reflect on and recognise accomplishments  recorded by females world over, advocating for more support of women's rights socially, morally, economically, culturally and politically.
The General Manager  said that even though it is not clearly visible, gender disparities have been deeply rooted into our working norms hence, giving male counterparts a upper hand. She called for a more inclusive, fair workplace and society at large.
Her words:  "At LASPARK, we value and celebrate the diverse skills, experiences and talent every employee brings to the table however, we are especially proud of our Women"
"Our workforce consists of vibrant, intelligent, exceptional Women across all cadre, very well represented in management positions as Heads of Departments and Units. These women are also Sisters, Daughters, Wives and Mothers who continually overcome direct and indirect gender bias, discrimination and stereotypes to thrive and make a difference".
"Today, we celebrate Women all over the World and especially the Women of LASPARK. Thank you for being incredible. Happy International Women's Day" She added.
International Women's Day(IWD) is a global day observed March 8 of every year. The theme for this year's celebration is "break the bias".