Greener Lagos: Lagos State Government Advocates Collective Efforts Towards Environmental Sustainability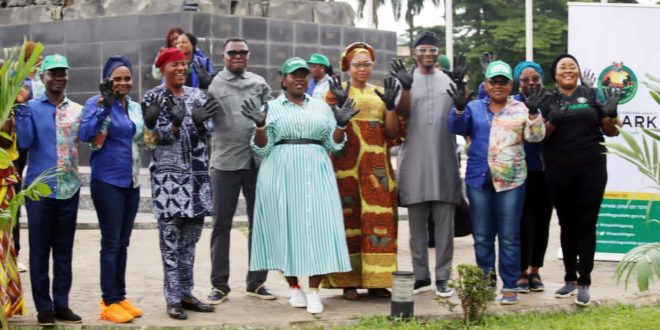 The Lagos State Government has identified the need for all relevant stakeholders in the environment to complement its tree planting initiative in order to achieve the goal of a greener city.
The Permanent Secretary, (Office of Environmental Services) Ministry of The Environment and Water Resources, Dr. Omobolaji Gaji, stated this on Friday during the annual tree planting commemoration anchored by the Lagos State Parks and Gardens Agency (LASPARK) at JJT Park, Alausa, Ikeja.
Represented at the event by the Director, Conservation & Ecology, Mrs. Tolulope Adeyo, Gaji maintained that the attainment of a sustainable environment should not be seen as the sole responsibility of the government or LASPARK, but of each and every individual.
Gaji stated: "We must encourage citizens to become active participants in this endeavor. Planting trees in our own backyards, creating rooftop gardens, or even participating in community gardening projects can make a significant difference.
" In addition to individual efforts, we must collaborate with local businesses, educational institutions and community organizations. By partnering with these stakeholders, we can develop innovative solutions, share resources, and create a collective impact that will transform our city into an oasis of green."
He promised that the state government on its part will invest in research and development to identify the most effective and sustainable green initiatives, adding that efforts would be intensified to ensure a coordinated approach to greening the entire metropolis.
In his words: "We will engage and educate our citizens, empowering them to take ownership of their environment and become active participants in the greening process. As we ensure a coordinated and collaborative approach to greening our State, we will leverage the parks and gardens under our purview amongst other spaces across the State."
The Permanent Secretary called on residents of the State to work hand in hand with the government to transform Lagos into a model of sustainability, where green spaces thrive, pollution minimized and the well-
being of our citizens prioritized.
Dr. Gaji commended some Lagosians that have been showing incredible support for the various greening programmes of LASPARK through the adoption of some parks for maintenance and periodic planting of trees to mark birthdays and other milestone celebrations.
On her part, the General Manager of LASPARK, Mrs. Adetoun Popoola said that the theme for this year's Tree Planting Day "Let's Green Our
City" presents another opportunity to further sensitize relevant stakeholders in environmental matters to know the importance of tree planting and the implication of removing trees without authorization.
She listed some past efforts initiated by LASPARK towards environmental sustainability, to include: the establishment of an Urban Forest park to bring residents close to nature,
institution of Green Clubs among school pupils, periodic sensitization on greener Lagos, among several others.
The General Manager informed that the target of the Agency is to plant at least 4,000 trees within the planting season of July – October 2023, adding that the Agency will distribute free ornamental and economic tree seedlings to LGs, LCDAs, CDAs, private organizations, NGOs, other interested individuals and volunteers, as a way of encouraging the culture of tree planting.
She disclosed that 60 trees were planted simultaneously at the two designated locations where the 2023 Tree Planting Day was commemorated at JJT Park Alausa and International Airport Road set back.
The General Manager added that
1,470 seedlings were given out to Local government areas making it a total of 1,530 seedlings planted for this year's Tree Planting Day commemoration in Lagos.
Recall that the annual Tree Planting Day is usually observed on July 14 every year in Lagos. The day is set aside to draw public attention to tree planting and sensitize the populace on the need to plant, nurture and preserve trees.
It should be stressed that the concept of tree planting embraced by the Lagos State Government over the years has been sustained by successive administrations in view of the numerous benefits inherent in tree planting both for our environment and for human survival as a whole.
Adekunbi Bakare
Head, Public Affairs
Lagos State Parks and Gardens Agency (LASPARK)
14/07/2023