LASPARK Hosts Domestic and Sexual Violence Agency (DSVA) Queens Club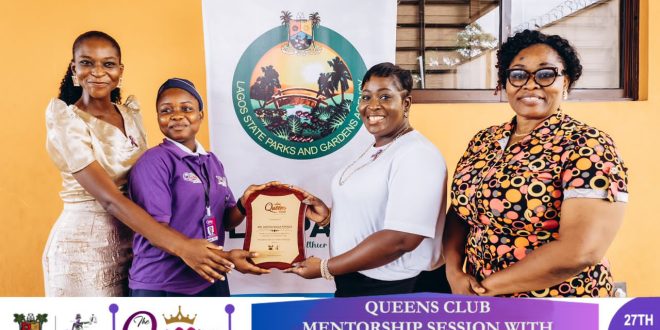 The General Manager of Lagos State Parks and Garden Agency (LASPARK) Mrs. Adetoun Ibilola Popoola hosted members of Lagos State Domestic and Sexual Violence Agency (DSVA) Queens Club in an interactive mentorship session at Dr. Oluyomi Abayomi Finnih Park in Oregun on Thursday 27th July 2023 as part of collaboration with the Agency.
DSVA initiated the Queens Club Meet and Greet Mentorship program to ensure the sustainability and continuity of the Queens Club Initiative, engaging secondary school girls trained, certified and inducted as part of the advocacy to reduce Sexual and Gender Based Violence (SGBV) to the barest minimum.
The LASPARK General Manager spoke about the various issues young girls face in their lives and shared relevant tips on how to surmount these challenges.
She emphasized that the girls should press on towards their goals irrespective of challenges as these form the ladder in their quest for the golden fleece.
According to her, "study shows that there's an increase in sexual abuse during holiday period and over 90% of abuse is perpetrated by someone that you know".
She reiterated to the girls the woes of Sexual and Gender Based Violence and the importance of speaking out early to get necessary help.
The Executive Secretary DSVA, Mrs. Lola Vivour-Adeniyi said in her welcome address that the Agency sought to partner with prominent members of the society who are committed to child empowerment and community development in order to have students who are members of the Queen's Club be mentored and impacted by them in their own space.
Mrs. Vivour-Adeniyi encouraged the girls to get ready to have an impactful session with their Mentor and feel free to ask relevant questions.
Mrs. Popoola commended the State Government for its commitment to the Girl Child and the DSVA for implementing programs such as this to sustain the initiative for a greater future with more women impacting their world.
She encouraged that the girls should become "positive game changers" in their course through life activities and should never forget the fact that if they "fail to plan, they indeed plan to fail".
The DSVA Queens Club had a Fun Day at the park with some painting and a short inspired video session. One of the Queens, Abimbola Ojo appreciated Mrs. Adetoun Popoola and the Lagos DSVA for the meeting which provided opportunity to be mentored and get impacted.
Adekunbi Bakare
Head, Public Affairs
LASPARK
28/7/2023