LASPARK PARTNERS STANDARD CHARTERED BANK ON ENVIRONMENT SUSTAINABILITY PROJECT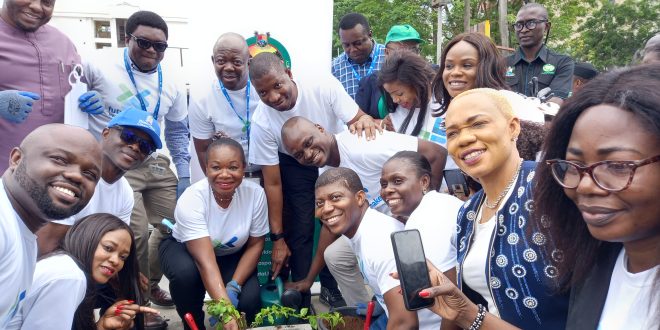 The Lagos State Parks and Gardens Agency (LASPARK) and Standard Chartered Bank have collaborated to plant 250 Queen Palm Trees on Ahmadu Bello Way median, Victoria Island, Lagos.
The General Manager of LASPARK, Mrs. Adetoun Popoola, spoke at the ceremonial tree planting event held on Wednesday in the Head Office of Standard Chartered Bank, Victoria Island, noting that the financial institution's gesture was part of its sustainability agenda and a demonstration of its commitment to "Accelerating Net Zero" strategy.
"The 'Net Zero Carbon Emission' campaign, being propagated the world over, is essential to strike a balance between greenhouse gases emitted to the atmosphere and the greenhouse gases that are being removed. One of the simplest and cheapest ways to do this is by Planting Trees", she said.
Popoola, who was represented by the Head, Tree Planting and Maintenance Department, Mrs. Funto Aina, explained that trees absorb greenhouse gases and release oxygen, therefore, acting as a stabiliser to the planet's ecosystem.
Her words: "Climate Change poses danger to the human race and ecosystem as the planet is continuously heating up by many of our daily activities including travel and energy production, which may lead to disastrous consequences if left unchecked".
"As much as transport, electricity and food are essential, we must collectively play our parts to mitigate the negative effects they have on our environment; this is why we are happy that Standard Chartered Bank identifies with what we do at LASPARK and has chosen to support our mandate as well as protect the environment", she added.
The General Manager, however, called on individuals, public and private organisations as well as Non-Governmental Organisations (NGOs) to take steps to emulate Standard Chartered Bank by instituting initiatives to beautify and protect the environment.
Also speaking, the General Manager of Lagos State Environmental Protection Agency (LASEPA), Dr. Dolapo Fasawe, who was represented by Dr. Adebola Odunsi, reemphasised the importance of planting trees to address the urban heat wave effect, saying "Trees are responsible for absorbing carbon dioxide and harmful substances that may impact the environment negatively".
Fasawe also commended LASPARK and Standard Chartered Bank for the partnership and enjoined citizens to ensure adherence to the LASPARK law which makes it mandatory for all tenement owners and occupiers in Lagos State to landscape and beautify the perimeter area of their property.
The Chief Executive Officer (CEO) of the Bank, Lamin Manjang stated that the global warming era had been predicted long ago, reiterating the need for everyone to support the environment.
Manjang averred that planting trees is one of the ways to mitigate the effect of climate change on the environment, revealing that environmental sustainability is the topmost priority of the organisation's agenda.